Bieber & Grande Lead Charge At 2016 Jingle Ball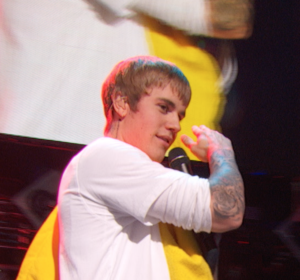 Bieber & Grande Lead Charge At 2016 Jingle Ball – Friday December 9th, 2016 at Madison Square Garden
Radio station Z100 started presenting the Jingle Ball in New York about the time a certain Canadian hotshot was being born. In that same general timeframe of the mid nineties, a Floridian who would become known to young adults as Cat Valentine in the Nickelodeon sitcom Victorious, also came into the world as did an Irish lad destined to find fame in a juggernaut of a boy band named One Direction.
In 2016, Jingle Ball is a veritable holiday season institution here in NYC. It reliably presents lineups stacked with some of the biggest names in pop and is part of a tour that hits big U.S. markets throughout December. This year Bieber, Grande, and Horan are certainly among the biggest names in pop: JB is truly a phenomenon, AG is clearly a dangerous woman, and NH is threatening to parlay the success of his band into potent solo stardom. All can boast of gaudy sales statistics and the ability to drive fans insane with a single smile. The Chainsmokers, Ellie Goulding, Diplo, Charlie Puth, Lukas Graham, and Daya were also on the bill. Meghan Trainor had to bow out as she wasn't feeling well. Fifth Harmony, who spoke to me briefly when I crossed paths with them at Jingle Ball three years ago, were also part of the festivities. Unfortunately Lauren Jauregui of the group suffered some ganja related embarrassment at the Washington airport a few days later.
Horan will be performing from the Billboard Hollywood party on Dick Clark's New Year's Rockin' Eve while Grande will be back at MSG on February 23rd and 24th. Bieber will be back this way next summer for a pair of shows at MetLife Stadium in August.
Video seen here courtesy of the good eggs at iHeartRadio.