Bang! Brett Berns Talks Bert Berns Movie & Legend
Bang! The Bert Berns Story is now available on iTunes and Apple Music. It is one of the best music documentaries I've ever seen and I watch an absurd amount of music documentaries! The film, narrated by Steven Zan Vandt is the vision of Bert's son Brett Berns who I spoke to recently about his extraordinary father. Here's the trailer…
Friday, December 30 marks the 50th anniversary of the passing of Bert Berns and only now is he receiving the accolades and attention that he earned in his short life. The Bronx native died at 38 but his body of work as well as his larger than life persona inspired a book (Here Comes the Night: The Dark Soul of Bert Berns and the Dirty Business of Rhythm and Blues by Joel Selvin published in 2014) and a jukebox musical with a book by Daniel Goldfarb as well as the documentary film co-directed by Brett Burns and Bob Sarles. For his work as a songwriter and record producer, Bert was inducted into the Rock and Roll Hall of Fame this year as well as given the Ahmet Ertegun Lifetime Achievement Award.
The soundtrack to the film was released today on vinyl by Legacy Recordings. The notes below on the track list were written by my friend (and a bit of a music biz legend in his own right) Bob Merlis…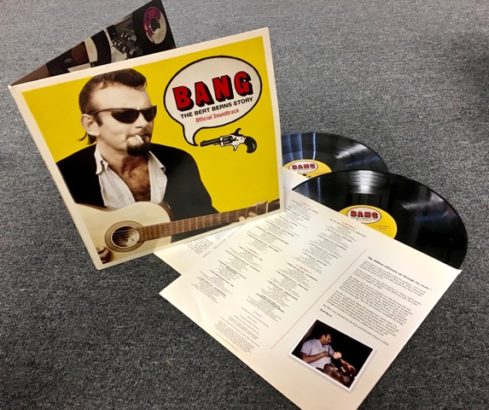 Piece of My Heart – Erma Franklin – the original version of the song written and produced by Berns was recorded by Aretha Franklin's older sister for Bang's Shout subsidiary in 1967, shortly before Berns' death at age 38. It went Top 10 on the R&B chart.
A Little Bit of Soap – The Jarmels – one of the earliest hits written by Berns, a crossover hit in 1961 for Laurie Records and established its writer as a force to be reckoned with in the business. It has been covered many times since.
Tell Him – The Exciters –the first Top 5 record written by Berns. Produced by Jerry Leiber and Mike Stoller, it was released by United Artists in 1962. It's said that when Dusty Springfield heard the record she changed career directions. Over the years it has been covered by Linda Ronstadt, Sonny and Cher and Kenny Loggins.
Twist and Shout – The Isley Brothers – written and produced by Berns, was originally recorded by The Top Notes whose Phil Spector-produced version did not chart. The Isleys' version, released on Scepter's Wand subsidiary went to #2 on the R&B chart in 1962. The Beatles covered it the following year and reached #2 on the pop charts and became one of the band's signature songs. In the film, Paul McCartney says, "People thought we wrote it."
Cry Baby – Garnet Mimms & The Enchanters – Co-written and co-produced by Berns with Jerry Ragovoy, the record was released on United Artists in 1963 and went to #1 on the R&B chart and #4 on the Hot 100. Its gospel-inflected mid-song narration is notable and innovative.
Show Me Your Monkey – Kenny Hamber – While it didn't chart, this track was written and produced by Berns and released on the Atlantic-distributed De Jac label. It underscores the strong Latin influence heard in many of Berns' productions.
Baby, Please Don't Go – Them – produced by Berns when he went to London in 1964 to work with British artists. The record, released by (British) Decca went to #10 in the UK with lead vocals provided by a 19-year-old Van Morrison. Jimmy Page, then a session player, provided the rhythm guitar parts.
You May Be Holding My Baby – The Pussycats – Written and produced by Berns in 1964 and released on his own (pre-Bang) Keetch label, named after his pet Siamese cat. It represents intention, later fulfilled with Bang, to control his own destiny as songwriter, producer and label chief.
Everybody Needs Somebody to Love – Solomon Burke – Berns co-wrote (with Jerry Wexler and Burke) the song and produced it for Atlantic's soul standard-bearer in 1964. Wilson Pickett, the Rolling Stones and The Blues Brothers successfully covered it thereafter.
Here Comes The Night – Them – A classic, written by Berns that was earlier recorded by Lulu. The version by Them (featuring Van Morrison) was released in 1965, going to #2 in the UK and hitting the US Top 25. Jimmy Page participated in the sessions for the song that has become a standard over the years.
I Want Candy – The Strangeloves – Released on Bang in 1965, the song's title is derived from Terry Southern's risqué bestseller Candy. It was written by Berns and the band's Richard Gottherer, Bob Feldman and Jerry Goldstein. The record went to #11 and has since been successfully covered by Bow Wow Wow whose 1982 version has become an enduring new wave classic
Are You Lonely For Me Baby – Freddie Scott – Released on Shout and written and produced by Berns, it went to #1 on the R&B chart the year of Berns' death (1967) and stayed there for four weeks. Back up vocals were performed by Cissy Houston and the Sweet Inspirations. It has been covered by artists ranging from Al Green, Otis Redding & Carla Thomas to the Grateful Dead and Steve Marriott.
Mr. Success – Bobby Harris – was one of the first releases on Shout, an obscure B-side to an even more obscure song called "Sticky Sticky." The strong influence of Berns' idol Sam Cooke is on display in the lead vocal performance. It never charted, but remains an important example of the autobiographical nature of Berns' work as the stress of his success accumulated to take his life within a year of the Bobby Harris session that included Cissy Houston and the Sweet Inspirations on background vocals.
Chick-A-Boom – Van Morrison – was the artist's debut solo single and released on Bang in 1967. Co-written by Berns and the artist, it highlights Latin cadences so favored by Berns throughout his career.
Hang On Sloopy – The McCoys – Released on Bang in 1965, it went all the way to #1 on the Billboard Top 100. It was co-written by Berns (with Wes Farrell) and originally recorded as "My Girl Sloopy" by the Vibrations. The McCoys' mega-hit was produced by Feldman, Goldstein and Gottherer (a/k/a The Strangeloves). The song has gone on to become a staple of the Ohio State University's marching band which has performed the song at OSU football games for more than 50 years. The official website of OSU's athletics department is "Hang On Sloopy."
Cry To Me – Freddie Scott – Written by Berns and first recorded by Solomon Burke on Atlantic in 1961, it was released on Shout! in 1967.
Brown Eyed Girl – Van Morrison – the artist's signature song was a Bang single that established Morrison and is offered here in its original stereo mix. It hit the top 10 in 1967 and has been re-recorded by Morrison many times over the years.
Am I Grooving You – Freddie Scott – written and produced by Berns and released on Shout, it hit the charts in 1967 and was the follow up to Scott's "Cry To Me."
Heart Be Still – Lorraine Ellison – masterpiece of symphonic soul, it was written and produced by Berns and Jerry Ragovoy. It was Berns' idea to take the gospel classic "Peace Be Still" and turn it into a love song. It was one of the very last productions before Berns' untimely death on the penultimate day of 1967.
Piece of My Heart– Big Brother & The Holding Company – a cover of the Erma Franklin song featuring Janis Joplin's lead vocal, it's the best-known and most successful version, recorded and released in 1968; Berns never got to hear it.