In a sentence – Eric Holland is bald and a DJ at WFUV radio. For more, read on!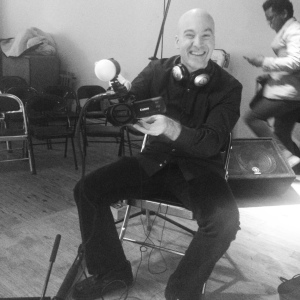 Born in Chelsea, MA, Eric mostly grew up in Pepperell, MA, about forty miles northwest of Boston. After graduating from North Middlesex Regional High School in Townsend, MA in 1987, he was off to central New York to attend Ithaca College. He quickly landed his own radio show on the college station playing jazz, followed by classic rock, and then alternative rock.
Soon Eric was intoning a variety of call letters into differing quality microphones. He got his first paying gig at WCMX in Leominster, MA. The summer after his freshman year and soon was working at WQNY in Ithaca while continuing his education. Upon graduation a stop was made at WAQY in Springfield, MA before moving back to upstate New York for a gig at WKGB. A Music Director's position at WPMR in the Scranton, PA market followed, but a realization dawned on Eric shortly thereafter…Scranton is a nightmare! He quit and decided to enjoy a drive across the country.
Beginning in Boston in the spring of 95, Eric zigzagged around the USA and visited many of the cities and lands he had always wanted to see. A short-term position as a Production Assistant for a TV movie in Charleston, SC helped finance fun times in New Orleans, Memphis, Austin, and Denver. After hiking the Grand Canyon and Zion National Park in Utah and drinking tequila with a cousin in New Mexico, he dipped into Mexico and up the California coast to San Francisco. It was here he left winter behind by selling his car and buying a one-way ticket to Hawaii.
In Honolulu, Eric resumed his radio career and was happily distracted to willingly forgo traveling for a short while. He made a living running sound for bands in bars and working in a record store while he worked his way up from part time to Program Director/Afternoon Host at Classic Rock 98.5. After three and a half years of sunshine, it was time to get back to the great northeast. For the next three years, Eric played classic rock again, this time at 100.7 FM WZLX. During this period, he began teaching Performance for Radio at Emerson College in Boston. As the semesters rolled by, he added Radio Production and Radio Programming classes to his teaching resume.
The next phase involved earning a Master of Arts from Emerson College in Boston and doing air work for (Album Adult Alternative) WBOS. In the summer of 2004, Eric moved to the Nagasaki prefecture of Japan and took a position teaching English at Sasebo Kita High School and Jr. High. In Sasebo, he programmed and hosted a radio show called Friday Night Rocks heard from 6 to 9 p every week on Thunder Radio, AM 1575.
In the summer of 2006, Eric moved to Tokyo. There he hooked up with Shiori Takei and the two co-hosted a radio program called Henna Communication. "Henna" means strange in Japanese. The program was strange in the respect that Shiori spoke mainly Japanese and Eric spoke mainly in English. This created an environment welcome to speakers of either language and a unique opportunity for people who were attempting to improve either their English or Japanese. The program featured popular music from around the world but favored "J-Pop," that is – Japanese pop music. During this time, Eric became more active in the commercial voice-over field.
In the fall of 2007, Eric moved to New York and soon appeared on the air at non-commercial WFUV, 90.7 FM which many consider the coolest radio station in the five boroughs. From Fall 2012 to Spring 2017, Eric made his first foray into television reporting by contributing two 90 second music reports to NY1-TV.
Eric will make a return to the classroom this fall (2017) at Fordham University where he will teach the Rock Revolution in Music and Media class to undergraduates while continuing on-air work and interviewing at WFUV.