The Game Is On For Cellist Tina Guo
Tina Guo, the exciting and accomplished cellist and erhu player, turned up in New York this week. Her first love as well as her first training was in the classical realm but Guo's playing evinces an enthusiasm for music across a wide array of genres. The Shanghai born, California raised and based artist has shared stages with Carrie Underwood, Carlos Santana, The Foo Fighters, Al Di Meola, Ariana Grande, Justin Bieber, Stevie Wonder and countless others. Her credits in film and television are extensive with contributions to Batman v. Superman, Sherlock Holmes, Iron Man 2, and Clash of the Titans as well as American Dad, Family Guy, and dozens more. She's got a taste for Metallica, Slayer and Pantera as she showed by recording music from each on her Cello Metal album a couple of years ago.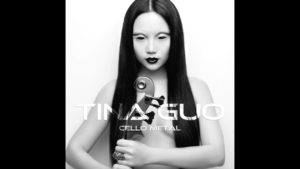 I first saw Guo on stage at Carnegie Hall last year performing with guitarist Joe Bonamassa and had been looking for a chance to see her again which came this past Tuesday, March 28th 2016, at a nifty venue on the Lower East Side called The Box. We chatted before she played four songs from her new album Game On! which was produced by her friend Hans Zimmer – the prolific composer who seems a natural ally of Guo as they both show an affinity for combining classical music with elements from other genres, especially electronic ones in his case. Game On! was recorded at Zimmer's Remote Control Studios in Santa Monica and features the Budapest Symphony Orchestra on four songs. The material selected for this album gives Guo opportunities for atmospheric accompaniment as well as swelling, anthemic soundscapes featuring grand musical gestures. She excels in both but on stage, to the delight of the audience, the latter was emphasized.
The track-list for Game On! is as follows:
The Legend of Zelda
Final Fantasy VII
Chrono Trigger
World of Warcraft
Skyrim
Uncharted: Nate's Theme
Super Mario Bros.
Pokémon
Journey
The Witcher 3: Wild Hunt
Halo
Metal Gear Solid
Call of Duty: Modern Warfare 2: Main Titles
Tetris