John Fogerty Recalls Robert Johnson Leading Him Back To CCR
John Fogerty Recalls Robert Johnson Leading Him Back To CCR – February 14, 2017
The first time I saw John Fogerty was in 1986 on the Eye of the Zombie tour. It was fab but it was also strange as he didn't play any, not one, song that he wrote while leading Creedence Clearwater Revival through five chart-dominating, immortalizing years in the late 60s and early 70s. As the El Cerrito California-raised legend explained when I spoke to him the last time he was in New York City, he just didn't have the heart for those songs after suffering through the humiliation and very unpleasant financial ramifications of a brutal deal he made with Saul Zaentz and Fantasty Records. Saul appears by the way, in the form of a pig, in Vanz Kant Danz the closing track on Centerfield. Bad blood also existed between Fogerty and his ex-bandmates as evidenced by his refusing to play with them when CCR was inducted into the Rock n Roll Hall of Fame in '93. The bitterness was put aside however when Fogerty made a trip to Mississippi. He told me he really didn't know why he wanted to take a trip down there. He had some notion about wanting to have a little pilgrimage to connect with the roots of blues masters but he wouldn't know why he truly went south until he had his moment next to Robert Johnson's grave.
What theoretically could be overlooked among the 3 minute classics favored by AM radio in his catalog is what a mean guitar player he is. At the South Street Seaport in the summer of 09, Fogerty scorched a cover of Van Halen's Eruption as an intro to one of the best Creedence guitar songs Keep on Chooglin'. Tunes like that and Ramble Tamble and Effigy are the most satisfying to me as my history as a classic rock radio DJ has forever numbed my appreciation for hits along the lines of Bad Moon Rising and Fortunate Son and Proud Mary – the three that he's traditionally closed his shows with for years.
The show at the Capitol theatre tomorrow night is sold out so you'll need a horseshoe or some serious green to get your foot in the door.
A final note…A nifty album of CCR covers was put out not too long ago featuring Latin artists called Quiero Creedence.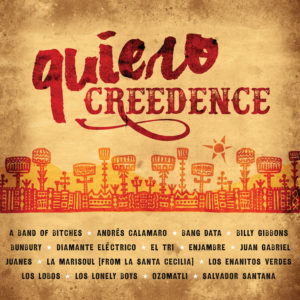 It includes Los Lobos, Los Lonely Boys, Billy Gibbons, and one of the last recordings of Mexican star Juan Gabriel before he died last summer.