Kangol Kid Honored By New York & Smithsonian
Kangol Kid Honored By New York & Smithsonian – September 10th, 2016
Roxanne Roxanne by UTFO is one of those songs that got tattooed onto popular consciousness.  The year was 1984 and the group was out of Brooklyn.  It's difficult to overstate how BIG a song it was.  It spawned a ridiculous amount of answer records by a wide handful of other artists including but not limited to: Roxanne's Revenge, The Real Roxanne, Roxanne You're Through, Roxanne's Mother, Roxanne's Brother, Roxanne's Doctor, and even – I couldn't make this up – Roxanne's a Man! The song also led at least a pair of female rockers to adopt the identity: Roxanne Shanté and The Real Roxanne.
Kid Kangol had already made a name for himself as the first breakdancer for a rap group when he brought his moves to the stage with Whodini.  He was and is also notable for being the first Haitian-American in the game.  Roxanne Roxanne brought him to another level as UTFO became the first hip hop crew to play the Apollo Theater when they supported Hall and Oates.  The Kid has used his fame in a positive way.  After losing his manager's mother – Mama Luke – to breast cancer, he's worked recruiting fellow hip hop artists in the fight against breast cancer.
In what was clearly a labor of love, New York State Senator Kevin Parker (who represents the 21st district including Flatbush and Park Slope) delivered the proclamation…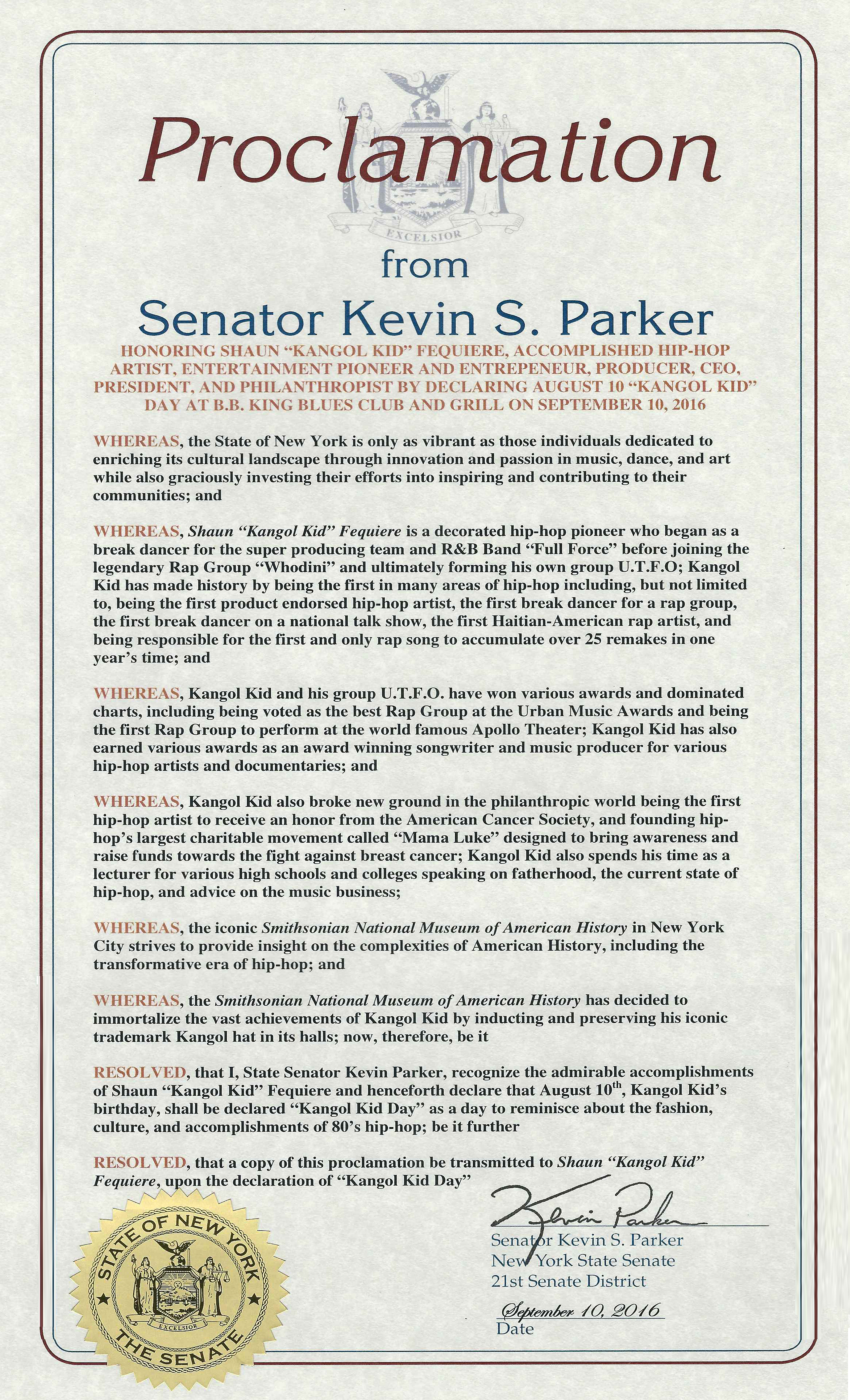 The Smithsonian Museum of African American History and Culture opens in DC on the 24th of this month.
Fun fact: Anthrax teamed up with their fellow New Yorkers on the title track to UTFO's Lethal album released in '1987!  A song that took a run at Michael Jackson't Bad on the top of the pop charts before rap charts even existed.