Martha Wainwright CD Release Party At Le Poisson Rouge
Martha Wainwright CD Release Party At Le Poisson Rouge – November 18, 2016
Martha Wainwright is the daughter of two accomplished singer songwriters: American Loudon Wainwright III and Canadian Kate McGarrigle who died almost seven years ago. She inherited great expectations along with royal musical blood. Bloody Mother Fucking Asshole is the title track to Martha Wainwright's first EP and was included on her self-titled debut album in 2005. At the risk of a oversimplified conclusion, the song indicted her dad for being a ghost to her while giving the best part of himself to his songs. At the time, interviews suggested she was less than amused about how he had mined their relationship for lyrical fodder while falling down on authentic communication with her in the context of a prominent musical family. She was kicking out against her whole situation as part of a declaration of independence that followed a move from Montreal to her birthplace of New York City. The song suggested exploring family relationships is crucial to her expression… It still is.
In the New York era, Martha Wainwright recorded a handful of rewarding albums and evolved as artists and people do. When it was time for the daughter to become a mother herself, she returned to Montreal. That transition to another station in life is a driving lyrical force on the new album Goodnight City. Produced by her husband Brad Albetta along with Thomas Bartlett, it includes half a dozen songs from her pen along with one co-written by her and Glen Hansard and another she collaborated on with her aunt Anna McGarrigle and her cousin Lily Lanken. Merrill Garbus of tUnE-yArDs, Rufus Wainwright, Beth Orton, and Michael Ondaatje also wrote songs for the project with Martha in mind.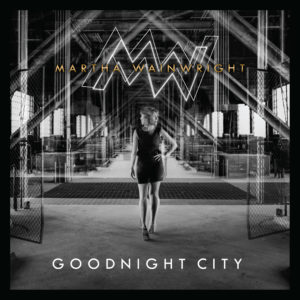 Having known of their friendship and her covers of songs like The Traitor and Tower of Song, before the interview concluded I asked her to remark about the great loss that was the death of Leonard Cohen earlier this month.