New Frank Zappa Documentary: Eat That Question
"Information is not knowledge, knowledge is not wisdom, wisdom is not truth, truth is not beauty, beauty is not love, love is not music.  Music is the best."                           – Frank Zappa (From Packard Goose off Joe's Garage, Act III)
Few artists are as worthy of a documentary film as Frank Zappa.  His musicianship; including his composing, his talents as a band leader, and his guitar work, were the stuff of genius.  His treatment of hypocrites and posers was uncompromising.   His social criticism – biting, and often hilarious, ran through his body of work as a through line.  The new Frank Zappa Documentary: Eat That Question gives insight into the fascinating character whose standing in the rock, classical, and even jazz and political worlds has only grown since his death in 1993 at age 52.
Maybe the most amazing thing about him was how he cultivated his bands' ability to play music in unpredictable ways.  As he explained in The Real Frank Zappa Book, he'd use hand signals on stage to communicate dramatic stylistic shifts from whatever the band was doing into reggae or ska or heavy metal. Beyond that, he used what he referred to as 'stock modules' or 'archetypal American musical icons' such as The Twilight Zone, Jaws, and Mr. Rodgers to create musical humor and put some lyrics, as he put it, in parentheses.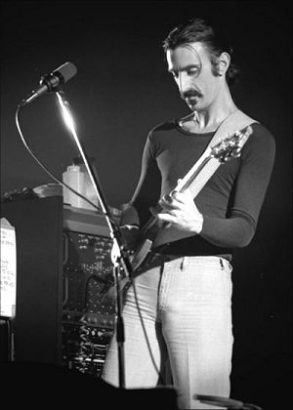 FZ standing toe to toe with the Washington wives of the PMRC (Parents Music Resource Center) is not only one of my favorite moments of Eat That Question but one of my teenaged self's favorite moments.  I was sixteen when Zappa so eloquently characterized the group's scheme to put warning labels on albums as "an ill-conceived piece of nonsense that infringes the civil liberties of people who are not children, and promises to keep the courts busy for years dealing with the interpretation and enforcement problems inherent in the proposal's design."  His analysis of the whole circus was razor sharp.  He called out not just the PMRC but the RIAA (whose priority was getting a blank tape tax) and the politicians who unethically gave their wives' sham organization a legislative fast track.  He became a hero to me at that point and I hadn't even yet heard Apostrophe or Shut Up 'n Play Your Guitar.
This documentary, culled from archival materials, gives insight into Zappa by stringing together a string of interviews he did throughout the course of his life from his 1963 appearance on The Steve Allen Show to his 1990 meeting with Czech Republic President Vaclav Havel.  Eat That Question was directed by Thorsten Schutte whose credits include 2003's I Was The King Of Porn…The Adventurous Life Of Lasse Braun.  Schutte spoke to me at the NY1 studios in Chelsea along with Frank's first born child Moon Zappa.  Moon was born in NYC during Frank and his wife Gail's period living in Greenwich Village between '66 and '68 and immortalized herself on the song Valley Girl in 1982.  She is an actress and author.
The flick opens Friday at Film Forum.