Thievery Corporation Digs Deeper In Dub On New Album
Thievery Corporation are back with a new album, The Temple Of I & I, that was recorded in Jamaica and is the most dramatic manifestation of their career-long fascination with the music of that island. When Rob Garza and Eric Hilton first got together in DC in the mid 90s to form their consistently adventurous and rewarding production duo, one of their first and most powerful discoveries was their shared love of artists like King Tubby and Lee Scratch Perry.
As Garza made clear in the interview, they had a brilliant time hanging out in Jamaica and recording at Geejam Studios. Enjoy the bonus video below in which he relates a brush with Toots Hibbert. One insight that Garza shared was that he and Hilton often compose tracks that exist as instrumentals before kicking around who they might like to invite to sing on them. Artists they've worked with in the past like Zee, Shana Halligan, and Lou Lou were all invited back as was old friend Notch. The latter reunited with Garza and Hilton for the first time since appearing on 2002's The Richest Man In Babylon (traditionally my favorite Thievery record) and 2004's The Cosmic Game and knows something about bridging American and Jamaican cultures as evidenced in his 90s group Born Jamericans. Boston MC Mr. Lif contributed to the album as well and is part of the touring band as he has been over the past few years. New friend Racquel Jones also represents Jamaica beautifully on a pair of tunes.
I asked if the I & I of the title, which Garza described as Jamaican patois for 'we' had any connection to the 1986 Bad Brains album I Against I. There is not a specific connection but he did acknowledge that Bad Brains, as fellow DCers, are held in high esteem and have been a great influence on he and Hilton.
Thanks to Stanley at Stanley's Pharmacy at 31 Ludlow Street on the Lower East Side who let us hang in his shop (that hosts DJs on the weekends) and for serving up some wonderfully delicious healthy drinks.
Love this album cover…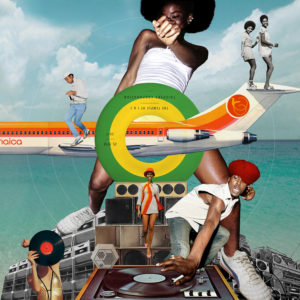 Tracklist to The Temple Of I & I is as follows:
Thief Rockers – featuring Zee
Letter to the Editor – featuring Racquel Jones
Strike the Root – featuring Notch
Ghetto Matrix – featuring Mr. Lif
True Sons of Zion – featuring Notch
The Temple of I & I
Time + Space – featuring Lou Lou of Ghelichkani
Love Has No Heart – featuring Shana Halligan
Lose to Find – featuring Elin Melgarejo
Let the Chalice Blaze [Instrumental]
Weapons of Distraction – featuring Notch
Road Block – featuring Racquel Jones
Fight to Survive – featuring Mr. Lif
Babylon Falling – featuring Puma
Drop Your Guns – featuring Notch