Bunny Wailer Kills, Sting Makes Cameo With Pearl Jam
Bunny Wailer at BB Kings 5-1-16, Pearl Jam 5-2-16
I was almost resigned to missing the most important living reggae artist coming to NYC for the first time in a decade because I was holding Pearl Jam tickets. However, after being reminded by my pal Dr. Dub (yes, I do know a dude named Dr. Dub who I owe for turning me on to scads of amazing Jamaican music) how feeble it would be to miss the show, I managed to swap the PJ paper to Monday.  This was a double horseshoe move as it not only connected me with the realest of the real reggae music but it meant I would see Sting as well as half of Cheap Trick guest on stage with Vedder and pals in an equally epic MSG show.
The interview was arranged last minute and I never thought I'd speak to Wailer, who turned 69 years old last month, but I got a tap on the shoulder shortly before his set ended and I was whisked backstage and then down the hallway for a quick powwow.   The conversation yielded an account of his conversion, if you like, to Rastafarianism.  The show, that the video gives a taste of, was nothing less than glorious with a dream setlist and tremendous energy coming off the stage and bouncing back off the crowd.  Mayor Bill de Blasio was in the house too and burned a fatty (just kidding I have no idea of the circumstances of their meeting) with Wailer prior to showtime.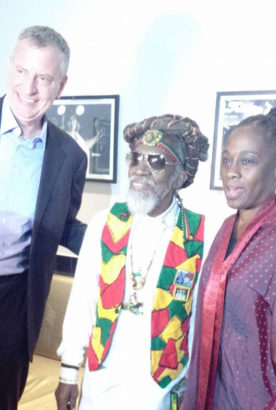 The same power ping-ponging between performers and audience was palpable the following night at Madison Square Garden.  Eddie Vedder, Mike McCready, Stone Gossard,  Jeff Ament, and Matt Cameron kept upping the ante as they blazed through a set that was heavy on their older material.  This is a rare tour in that the fellas don't have a new record – 2013's Lightning Bolt being the most recent – and PJ opted to delight the graybeards like myself in the house with the tossing off of tracks like Garden and Porch from Ten.  Rick Nielsen and Tom Petersson of Cheap Trick, who were recently inducted into the Rock and Roll Hall of Fame, turned up at one point as if from the 70s and demolished a version of Surrender.  I was lucky enough to see Cheap Trick, by the way, at Melrose Ballroom on April 10th in Long Island City as they were filmed for an episode of the concert series Front and Center and it was also, naturally, killer.
Finally, it climaxed with Sting joining for a tough Driven To Tears.  Vedder set it up by doing a rap about feeling overwhelmed by media messages (including a few indirect but obvious swipes at Donald Trump) before saying there is no better song about that than this one…
Note: Wailer reportedly was unable to perform last night and was hospitalized.  Good energy towards Bunny…