Dweezil Keeps Zappa Flag Flying At Beacon Theatre
Dweezil Keeps Zappa Flag Flying At Beacon Theatre 10-30-16
I think Frank Zappa would be very proud of what his son Dweezil has done and what he is doing in regards to keeping his music alive on stages around the world. He plays it with skill and passion and is obviously on a mission to share the genius of it with as many people as possible. Despite already having a son's familiarity with Frank's work, about thirteen years ago, Dweezil threw himself completely into the study of his Dad's catalog. He spent two years preparing before putting a band together. The group that emerged has distinguished themselves by displaying love and devotion for the myriad forms of music composed by Frank Zappa.
For about a decade, the outfit went under the banner of Zappa Plays Zappa until unfortunate events forced a name change. The Zappa Family Trust, led by Dweezil's younger siblings Ahmet and Diva, served him with a cease and desist order! This is the impetus for the billing of the current tour: Dweezil Zappa Plays Whatever The Fuck He Wants/50 Years of Frank!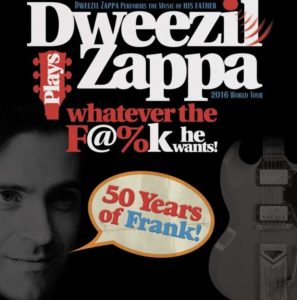 Frank Zappa's first album, Freak Out, did indeed come out fifty years ago in 1966 and the band is celebrating the anniversary by including a handful of selections from it.
The mystifying attitude the Zappa Family Trust has evidenced towards Dweezil takes the shine off the apple of the current reissue project as the trust is overseeing the releases. Still, all family members and fans perhaps can agree that shiny remastered versions of Frank's albums on wax and CD is a beautiful thing. Just last week, three more albums came out: Meat Light is a deluxe expanded edition of 1969's Uncle Meat, Chicago '78 is a concert captured in the city and year that the title suggests, and Little Dots is a sequel to Imaginary Diseases, featuring additional selections captured on the 1972 Petit Wazoo tour in which Frank led a 10-piece horn-heavy crew.
Here's some bonus bits with Dweezil including his recommendations on where to dig into his old man's body of work as well as news of a fresh outrage that could legally prevent him from using his last name…