Peter Wolf Brings A Cure For Loneliness To City Winery
Peter Wolf Brings A Cure For Loneliness To City Winery – September 8th, 2016 Also September 9th & tonight (September 10th)
Peter Wolf's A Cure For Loneliness is one of my favorite albums of 2016 and he is the kind of performer who I want to see regardless of the circumstances so it was a no brainer to roll down to City Winery on Thursday.  Wolf's songwriting collaborators on the new album include Will Jennings whose resume includes teaming up with the like of Winwood, Clapton, and Orbison among many others and whose relationship with Wolf goes back to the nineties.  Four of the twelve tracks were penned by Wolf/Jennings including my fave How Do You Know that the man revealed was given a, uh, shot of something extra somewhere in the birthing process by a bottle of Kentucky's finest.
The disc also includes a gem written with Don Covay who co-wrote the title track to Wolf's solo debut Lights Out and who passed away last year.  The song, It's Raining, is a tribute to both Covay and Bobby Womack who we lost in 2014.  The plan was to have Womack play on it but that was not to be so the namecheck in the beginning was added.  The man who co-wrote so many memorable J Geils Band songs, Seth Justman, also figures in the credits to A Cure For Loneliness as Love Stinks is re-imagined Appalachian style complete with mandolin played by Duke Levine.
Wolf emphasized the collaborative aspect of life as a musician and mentioned that the rewards of give & take between players were a major magnet that drew him to a life of rock n roll as opposed to a career as a painter.  Fans may recall he moved to Boston from his New York City home as a young man to study painting and that he still picks up a brush.  (Peter spoke about growing up in The Bronx and shared some of the remarkable experiences in his life when we spoke last summer.)  He is responsible for the artwork on the cover to his previous album, 2010's Midnight Souvenirs…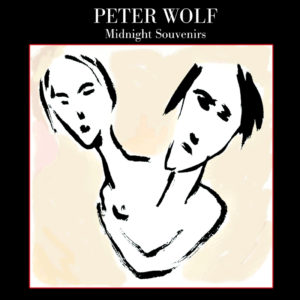 By the way, the artwork from the English artist Grace O'Connor for the back cover and gatefold of A Cure For Loneliness is especially fab.  He described the unit on the cover as the Woofa Goofa Mamma Toofa I-pod!