Pharoah Sanders Recalls Homelessness At Winter Jazzfest
Pharoah Sanders Recalls Homelessness At Winter Jazzfest – January 5, 2017
2017 Winter Jazzfest NYC got underway on Thursday with an appearance by Pharoah Sanders at Le Poisson Rouge in the West Village. The 6 day event is now in its 13th year of delivering a well-curated mix of heavy hitters and up and comers across a handful of venues. Of the 130 or so artists participating, none generated as much enthusiasm or reverence than the mighty tenor saxophonist who led a one-off quartet put together for the gig. It was comprised of long time ally and contemporary William Henderson on piano along with a hotshot rhythm section of new acquaintances Dezron Douglas on bass and Johnathan Blake on drums.
Sanders does few interviews but I made a pitch to speak with him before the show and, as his manager put it, caught him at the right moment. I knew that he had moved to New York City in 1961 so I asked him about those days which led to his candid remarks about being forced to live on the street for a period when he first arrived. It was powerful testimony that included recollections of doing odd jobs like painting and cooking and even selling pints of blood to earn a few bucks. In his stint as a short-order cook of sorts, he remembered the drummer (who appeared on Sanders' 1981 album Rejoice) Billy Higgins dropping by and playing the spoons! He mentioned Sun Ra as an important friend of the time and agreed the tipping point was hooking up with John Coltrane with whom he played extensively between '65 and '67. Sanders was honored as a 2016 NEA Jazz Master and appeared in, of all things, a GQ spread last month sporting a nifty Nigerian fez.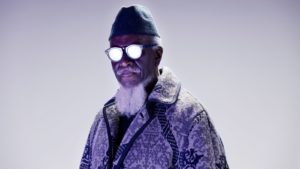 The 2017 Winter Jazzfest features panel discussions for the first time as a compliment to the music. The event is marking the 100th birthday of Thelonious Monk as well as exploring a theme of social justice this year. In fact $1 of every ticket sale of the festival will benefit BLACK LIVES MATTER and the ACLU. The concert by the Charlie Haden Liberation Music Orchestra at Le Poisson Rouge tonight – Tuesday, January 10, 2017 – will be preceded by an environmental justice panel from 6:45-7:45.