Raul Midón: Bad Ass And Blind…And In New York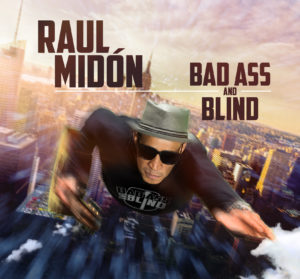 Raul Midón landed in town, showed off his chops, and shared some winning new tunes in two appearances last week. On the album Bad Ass And Blind that came out Friday, he offers a glimpse into his sightless world on Sound Shadows and his mantra for living on Pedal To The Metal. He also turns in a memorable first on-album rap on the boasting title-track, and puts punctuation on a fine song cycle with a spiffy cover of Steve Miller's Fly Like An Eagle.
The New Mexico born artist attended the University of Miami and remained in Florida for about a decade as a session singer doing commercials and backing vocals. Writing all the while, a publishing deal gave him some cash to finance a move to New York around 2003 where, among other things, he got a gig doing some music for Spike Lee's She Hate Me. It took him exactly one year from the time he moved to town to get to Carnegie Hall as part of The Movie Magic of Spike Lee. (Midon lives in Maryland these days.)
As the likes of Stevie Wonder, Bill Withers, and Herbie Hancock know, Raul Midón is indeed a bad ass as he proved in the Meatpacking District venue The Highline Ballroom on Friday, March 24th. His guitar playing and singing is complemented by his mad mouth trumpeting that he demonstrates further in the bonus video below. He told me he has worked hard on the technique and applied everything he knows about guitar to it. One area he got into on guitar on the new record is what he referred to as heavy-duty hardcore modal chords like those on the song All That I Am. Here's Midón explaining the meaning of modal chords and therefore modal jazz!
Thanks to Guitar Center dudes in Times Square for the cool interview room on Thursday before his clinic there.